Root Canal Treatment in Guelph, ON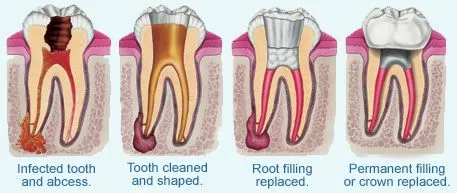 Teeth can become infected or abscessed when bacteria enters the pulp through deep cavities, cracks, or failed fillings. An infected tooth can cause pain and/or swelling, and must be treated by removing the infected pulp. Root canal treatment allows the removal of infected and/or dead pulp from your tooth, while saving its outer shell. This allows you to keep your tooth, preventing other teeth from drifting out of line and causing subsequent problems. At Eramosa Dental in Guelph, ON, our dentists utilize specialized equipment to perform root canal procedures safely, effectively, and painlessly.



Why is a Root Canal Performed?
Once the dental pulp becomes inflamed or infected the only way to stop the spread of bacteria is to perform a root canal. Our dental team may recommend a root canal if,
You have deep, severe, and widespread decay
You have a cracked or chipped tooth
You've sustained a traumatic injury to the tooth
You have a tooth that has undergone multiple dental procedures (this can weaken the tooth and leave it susceptible to cracking and fracturing)
We know that no one likes the idea of undergoing any kind of dental procedure including a root canal, but rest assured that Dr. Lau and the team at Eramosa Dental are dedicated to providing a gentle and comfortable experience for you.